2023 - 07 - 18 | Press Releases
Graphic Technologies, Interactive Experiences, and Storytelling Add to Fast-rising Growth of Gaming
FOR IMMEDIATE RELEASE
18 July 2023
Media Contact:
Marketing & Media Office
media@siggraph.org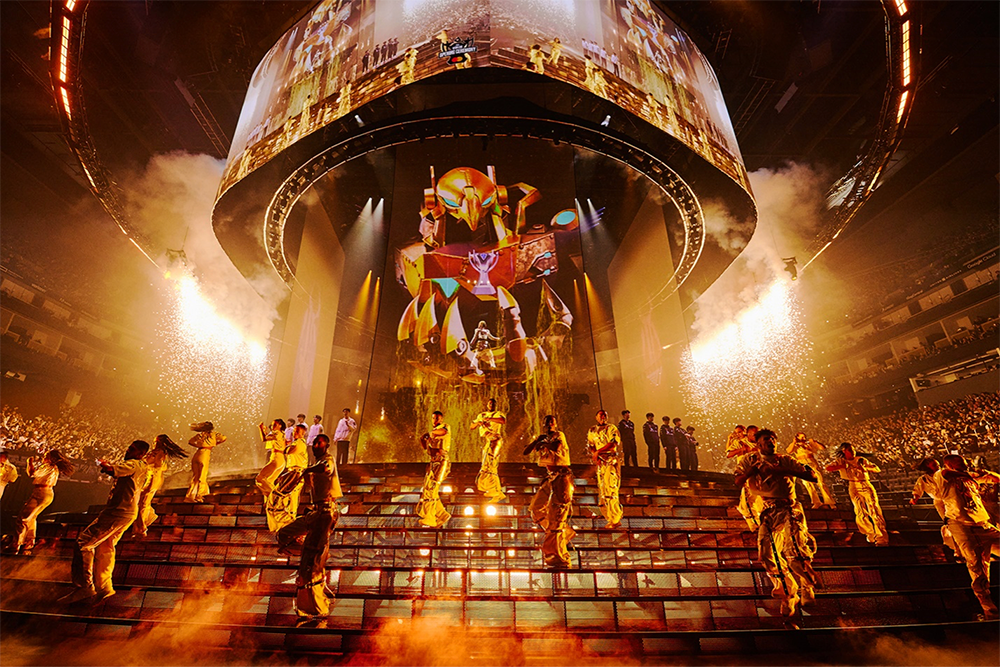 "Magic Made Real: How POSSIBLE and Riot Games Realize League of Legends for the Stage" © Presentation content by Possible, Inc. Photos and broadcast footage of event by Riot Games. All rights reserved.
Graphic Technologies, Interactive Experiences, and Storytelling Add to Fast-rising Growth of Gaming
SIGGRAPH 2023 Features Games-focused Panels, Programs, and Exhibits That Embody Computer Graphics and Interactive Techniques
CHICAGO—SIGGRAPH 2023, the premier conference and exhibition on computer graphics and interactive techniques, marks its 50th year of breakthroughs and innovation. The advancements of technologies in interactivity, graphics, and storytelling represent the evolution and growth of the multibillion-dollar gaming industry. SIGGRAPH 2023 presents content that covers the various developments of the industry and all its advancements with panels, workshops, and live demonstrations at the 50th annual conference, which runs 6–10 August 2023 in person in Los Angeles, with a companion Virtual Access component.
With the ongoing growth of gaming, from casual and home gamers to online esports competitors and professionals, game creators continue to make strides with the latest advancements in graphics and visual technologies to related technologies for interactivity, augmented and mixed realities, and generative AI. These innovations add to the storytelling and provide new, unique gaming experiences.
"I always enjoy seeing games released that add new visual and interactive experiences that we didn't know were possible," said Josef Spjut, SIGGRAPH 2023 Games Focus Area Chair. "As technologies improve and evolve, I expect much of the related technologies that are created to have a big impact on the way game development is done. While the current trajectory of gaming is likely to continue, new story-based games will continue to push graphics and storytelling fidelity, and esports will add features to help players with analytics, skill development, and performance."
The range of game-focused programs at SIGGRAPH 2023 includes a metaverse workshop organized by Lauren Cheatham and presented by Carissa Kang, Danny Pimental, Matt Soeth, and Benjamin Crosier entitled "Frontiers Workshop: Beyond IRL, How 3D Interactive Social Media Is Changing How We Interact, Express, and Think" that will discuss how younger generations are growing up with exposure to immersive virtual environments. The panel will cover how the metaverse will change how people interact, express, and think and how to create environments and experiences that encourage and support unique self-expression, positive community engagement, and create space for learning and growth.
The Production Session "Magic Made Real: How POSSIBLE and Riot Games Realize League of Legends for the Stage" features Ryan Chung, Anna Robinson, Chris Anderson, and Jake Mcpherson, the creative and producing team behind the League of Legends World Championship Opening Ceremony. They will talk about how they execute the technology with the spectacle flawlessly to have the 100 million-plus viewers believe the magic of one of the world's premier esports events. Natalya Tatarchuk brings back fan-favorites "Advances in Real-Time Rendering Part 1" and "Part 2" where she demonstrates state-of-the-art and production-proven rendering techniques for the fast and interactive rendering and engaging virtual worlds of video games. For more of Tatarchuk's other sessions and presentations, visit the full program schedule.
Always a spectacular live show, Real-Time Live! will be streaming on Twitch for the first time. In-person and online viewers can see a showcase of mind-blowing graphics technologies, real-time demos, scientific visualization, and other transformative technologies live and in front of an audience. Roblox is investing in generative AI techniques, and by leveraging natural language and other expressions of intent, creators can build interactive objects and scenes without complex modeling or coding. "Roblox Generative AI in Action" with Brent Vincent and Kartik Ayyar aims to make creation faster and easier through the use of AI image generation services. Rich Hurrey, Eric Soulvie, Kai Husen, Clifford Champion, and Shane Griffith have developed an innovative software technology that enables the authoring and real-time performance of 3D poses, deformations, and animations. Their demonstration of "Feature Film Quality Characters Anywhere" leverages layered deformers without the limits of traditional bone and skin weight system.
For the first time, SIGGRAPH 2023 will host an Open Gaming Session and Tournament. The gaming session is open for registered participants to create teams and play different games or to sign up for the 16-player, 1vs1 rocket league tournament. As gaming and esports have spread across gaming communities globally, SIGGRAPH is bringing some of the active social gaming and interaction aspects to the conference to give participants a chance to network with others who engage in the gaming industry or as a hobby.
Learn more about the various games-focused programs by checking out the full program. To get more information about the conference, opportunities, or to register to attend in person or online, go to s2023.SIGGRAPH.org/register.
###
About ACM, ACM SIGGRAPH, and SIGGRAPH 2023
ACM, the Association for Computing Machinery, is the world's largest educational and scientific computing society, uniting educators, researchers, and professionals to inspire dialogue, share resources, and address the field's challenges. ACM SIGGRAPH is a special interest group within ACM that serves as an interdisciplinary community for members in research, technology, and applications in computer graphics and interactive techniques. The SIGGRAPH conference is the world's leading annual interdisciplinary educational experience showcasing the latest in computer graphics and interactive techniques. SIGGRAPH 2023, the 50th annual conference hosted by ACM SIGGRAPH, will take place live 6–10 August at the Los Angeles Convention Center, along with a virtual access option.