Welcome to SIGGRAPH 2023
SIGGRAPH 2023 Juries
It is the commitment of our valued juries that allows us to best share what is transforming our fields and our world.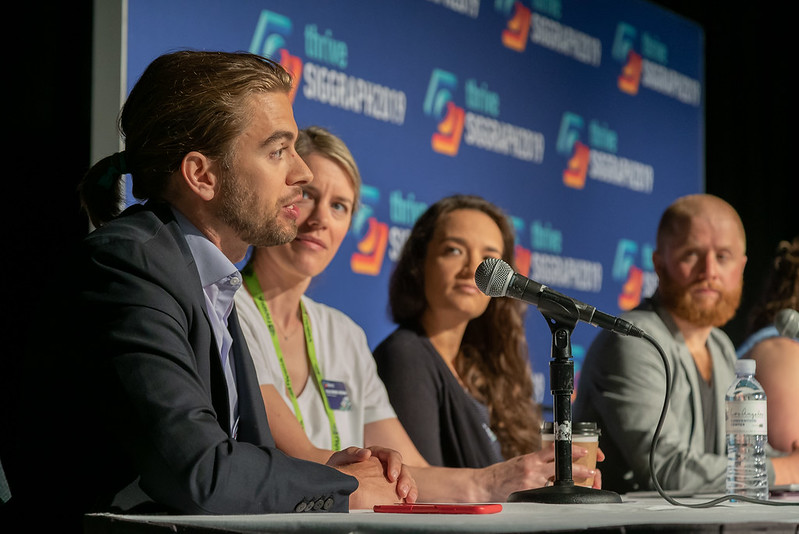 On behalf of the SIGGRAPH 2023 Committee, we would like to thank the following jurors for their knowledge, expertise, and dedication to SIGGRAPH.
ART GALLERY JURY
Memo Akten
University of California San Diego, Goldsmiths University of London
Esteban Garcia Bravo
Purdue University
Eunsu Kang
Carnegie Mellon University
Sölen Kiratli
Media Arts and Technology Program (MAT), University of California, Santa Barbara
Avital Meshi
UC Davis
Mohumagadi Moruti
Danube University Krems
Xin Xin
The New School, Processing Foundation
Weidi Zhang
University of California, Santa Barbara; Arizona State University
ART PAPERS JURY
Ali Asadipour
Royal College of Art
Terence Broad
Goldsmith University
Roberta Buiani
University of Toronto
Angus Forbes
Purdue University
Oliver Gingrich
University of Greenwich
Vanina Hofman
Universitat Rovira i Virgili
Tobias Klein
University of Hong Kong
Anna Martin Niedecken
Zurich University of the Arts
Ann McNamara
Texas A&M University
Everardo Reyes
University of Paris
Annina Ruest
Florida Atlantic University
Victoria Szabo
Duke University
Theodora Vardouli
McGill University
ELECTRONIC THEATER JURY
Sidney Clifton
Deluxe Animation Studios
Ben Dai
Blizzard Entertainment
Andrew Glassner
Imaginary Institute, Unity
Megha Juneja
DreamWorks Animation
Jonathan North
KBR Wyle, NASA Goddard Space Flight Center
Yli Orana
BUCK DESIGN
Angeline Rivera
Hornet
Victor Schutz
Industrial Light & Magic
Alexis Wajsbrot
POSTER JURY
Daljit Singh J.S. Dhillon
Clemson University
Valeria Garro
Blekinge Institute of Technology
Alexandra Ion
Carnegie Mellon University
Changjian Li
University of Edinburgh
Soumyadip (Roni) Sengupta
UNC Chapel Hill
James Tompkin
Brown University
Stephanie Wang
University of California San Diego
Xi Wang
ETH Zurich
REAL-TIME LIVE! JURY
Jesse Brophy
Frost Giant Studios
Juan Canada
Epic Games
Apollo Ellis
NVIDIA
Angela Luo
Meta
Krasimir Nechevski
Unity Technologies
Colin Penty
The Coalition
Maarten van der Gaag
Guerrilla Games
Can Yuksel
NVIDIA
TECHNICAL PAPERS COMMITTEE
UNIFIED JURY
Matt Baer
Dream
Pau Baiget
Google
Brian Beams
Stanford University, Virtual Human Interaction Lab
Peter Bowmar
Quixel, Epic Games
Jonah Brucker-Cohen
Lehman College / CUNY, New Inc.
Paul Debevec
Netflix, USC Institute for Creative Technologies (ICT)
Paul Dietz
Tactual Labs
Diana Diriwaechter
Epic Games
Angus Forbes
Purdue University
Bridget Gaynor
Savannah College of Art and Design
Sirak Ghebremusse
Industrial Light & Magic
Francesco Giordana
Netflix
Nandhini Giri
Purdue University
Mashhuda Glencross
University of Queensland
Carlos Gonzalez-Ochoa
Independent
Uttam Grandhi
NYU College of Dentistry
Dar'ya Guarnera
NTNU, University of York
Derek Ham
North Carolina State College of Design
Jeff Han
Independent
Andrew Hayes
AWS
Christine Holmes
Netflix
Jason Iversen
Weta Digital
Michal Iwanicki
Activision
Nick Jushchyshyn
Drexel University, Epic Games
Theodore Kim
Yale University
Jamie Klein
Jeff Lait
Side Effects Software Inc.
Emmanuel Laurent
ReelFX
Richard Marks
Google
Eileen McGivney
Harvard University
Alexandre Nascimento
Jonathan Nitiparsong
Paper Moon Studios
Veronica Orvalho
Didimo Inc., Universidade do Porto
Anna Queiroz
Stanford University
Chris Redmann
Netflix
Laura Reznikov
Selma Sabera Ruzdijic
4Realz LLC
Omer Shapira
NVIDIA
Weiqi Shi
Roblox
Josef Spjut
NVIDIA
Courtney Starrett
Texas A&M University
Sumire Takamatsu
Crafty Apes VFX
Rita Turkowski
Meta Platforms, Facebook Inc.
Ruth West
University of North Texas, xREZ Art + Science Lab
Nora Wixom
Apple
Chris Wyman
NVIDIA
Can Yuksel
NVIDIA
VR THEATER
Miriam Arbus
Independent Art Curator/Advisor
Youhan Guan
Blackbird Interactive Inc.
Juliana Loh
Independent Immersive Designer/Artist
Patrick Owens
Buffalo Buffalo
Pushkar Patange
Archiact VR
Will Selviz
RENDRD Media
Brian Troyer
Google