Welcome to SIGGRAPH 2023
Navigate SIGGRAPH
SIGGRAPH 2023 Mobile and Virtual Access is an extended version of the full program (conference schedule) on the website — keeping all the fun in one location! While there will not be a mobile app for SIGGRAPH 2023, the full program is designed to be mobile friendly and accessible from mobile and desktop web browsers.
Whether you are attending in person in Los Angeles or virtually, log in and begin exploring SIGGRAPH 2023 Virtual Access. Bookmark and return to the full program on your mobile device during the conference to best navigate your experience.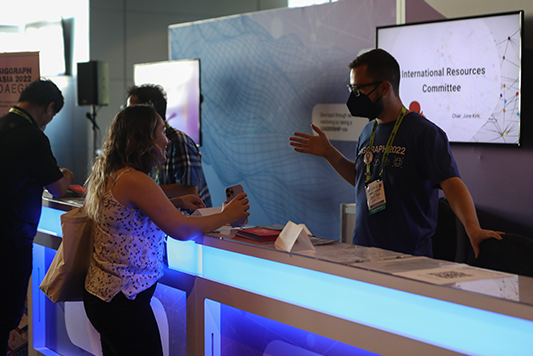 Login FAQs
Login Information
Prior to the launch of the SIGGRAPH 2023 Mobile and Virtual Access livestreamed and on-demand content on 6 August, watch your inbox for an email from do_not_reply@linklings.com inviting you into SIGGRAPH 2023 Mobile and Virtual Access. You will receive this communication the week of 31 July.
Please note, only registrants at the Full Conference, Full Conference Supporter, Virtual Access, and Virtual Access Supporter levels will receive access to livestreamed and on-demand content. All conference registrants can use the SIGGRAPH 2023 full program as their personal conference schedule.
If you are registered at the Experience or Exhibits Only levels, you can use the mobile browser to navigate the conference, build your schedule, and connect via the attendee directory. However, your registration does not include Virtual Access of livestreamed and on-demand content or the virtual chat functions.
If you are interested in expanding your conference experience, please upgrade your registration. Visit the registration desk on-site in Los Angeles, the SIGGRAPH 2023 registration webpage, or contact registration-s2023@siggraph.org.
Back to Top
Login Instructions
Navigate to the "Sign In" link on the alert bar at the top of s2023.siggraph.org or via the link in your email from do_not_reply@linklings.com. Use your username and password provided (email address used during registration and unique confirmation ID). If you did not receive an invitation from do_not_reply@linklings.com, you can find your confirmation ID within the receipt of your registration.
It is important to note that in-person participants should keep their login credentials handy, as you need to be logged in even while on-site in Los Angeles to interact with Mobile and Virtual Access. All participants are encouraged to reset their password, keep it secure, and refrain from sharing it with anyone else.
Once you are successfully signed in, you will see your email address along with some abbreviations for your SIGGRAPH 2023 registration level.
Full Conference (FC)
Full Conference Supporter (FCS)
Virtual Access (V)
Virtual Access Supporter (VS)
Experience (E)
Exhibits Only (EO)
If you still need assistance, please contact Mobile and Virtual Access Support at virtualconf@siggraph.org.
Back to Top
Mobile and Virtual Access FAQs
Virtual Electronic Theater
Navigate Eventive
Virtual Ticket
A virtual Electronic Theater ticket is included in the Full Conference/Full Conference Supporter and Virtual Access/Virtual Access Supporter registration levels. SIGGRAPH 2023 participants at any other registration level can visit the registration page and purchase a virtual Electronic Theater ticket as an add on.
Back to Top
How to Watch
Ticket holders can view the virtual Electronic Theater reel through Eventive starting on 8 August 2023 at 9 am PDT through 9 September 2023 11:59 pm PDT. Once unlocked, all ticket holders will have 96 hours to watch the Electronic Theater reel as many times as they like within that window. Look out for an email from noreply@eventive.com for your unique code to unlock your Electronic Theater virtual screening.
Back to Top
Photography and Recording Policies
To review what SIGGRAPH 2023 content we encourage and prohibit participants capturing via camera or recording, please refer to our Photography and Recording Policies chart.