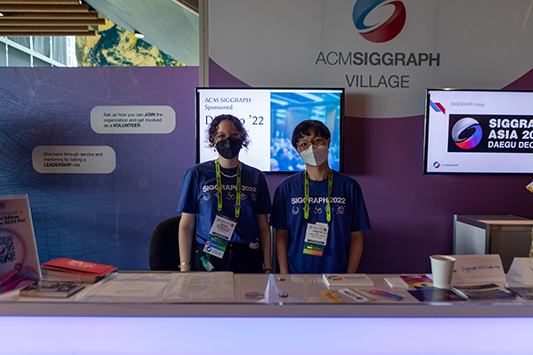 About the ACM SIGGRAPH Village
The ACM SIGGRAPH Village is the expression of ACM SIGGRAPH's year-round activities. During conference week, Standing Committee members, Executive Committee members, and affiliates will be available in the Village to talk to conference participants about their area of knowledge.
ACM SIGGRAPH's mission is to nurture, champion, and connect researchers, educators, and practitioners of computer graphics and interactive techniques. The ACM SIGGRAPH organization presents a diverse offering of programs and services for its members and the computer graphics community at the SIGGRAPH conferences and year-round. These activities include focused and online communities, career and professional development, external relations, and more. Find out more on the ACM SIGGRAPH website.
ACM SIGGRAPH members have opportunities to participate and network with online and in-person communities and learn and grow their careers year-round. Discover what opportunities for connection await at SIGGRAPH 2023. Learn more about ACM SIGGRAPH membership, and connect with these communities to enjoy year-round activities and volunteer opportunities!
Thesis Fast Forward
Check out past Thesis Fast Forward highlights and join us in the ACM SIGGRAPH Village for Thesis Fast Forward on Tuesday, 8 August at 9 am PDT.
Standing Committees and Volunteer Opportunities
Get involved! Learn more about how you can get involved by reviewing details about Standing Committees, their mission, activities, and volunteer opportunities below.
The below list encompasses Standing Committees that will be represented at SIGGRAPH 2023. This list is subject to change as SIGGRAPH 2023 approaches.