Art In Action
Art Papers
Art has a responsibility to contribute cultural and humanist dimensions to our definition of the future. Drawing on 50 years of experimentation, discover how the intersection of art and technology moves us from ephemeral performance to sustainable innovation. Accepted Art Papers are published in the Proceedings of the ACM on Computer Graphics and Interactive Techniques (PACMCGIT) special issue on SIGGRAPH 2023 Art Papers.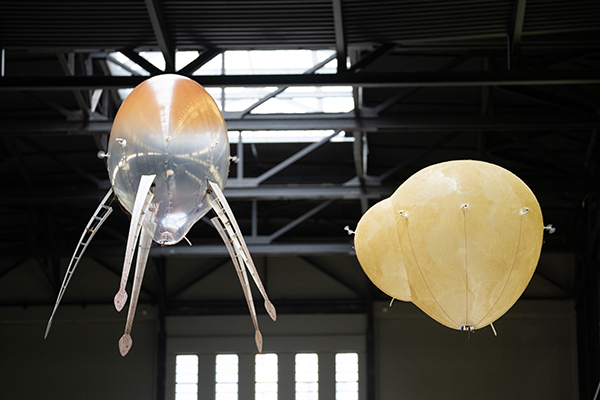 The SIGGRAPH 2023 Art Papers program will act as the bridge between culture and technology to rethink and explore the future of our society. It's about questions, debate, perspectives, and solutions. We have a dream for this 50th edition — to bring art and engineering communities back together, as has been so fruitful in history with the Renaissance, the Bauhaus, and Hippie Modernism. We understand art in its broadest sense, encompassing different fields from fine art to design and architecture. Submissions exploring how computer graphics and interactive techniques — especially those linked to recent developments in AI, machine learning, robotics, the metaverse, AR, and blockchain — relate to societal and environmental questions are particularly encouraged. Submissions by members of underrepresented groups are especially welcome. We would like you to engage in the Renaissance of the 21st century!
Please join us in the SIGGRAPH 2023 Art Papers in Los Angeles.
Nicolas Henchoz
SIGGRAPH 2023 Art Papers Chair
Submissions must be performed by uploading your full text formatted in the given template. We also ask you to add a very short text explaining why your artwork is important for the whole SIGGRAPH community, in a large sense, from raising critical issues to opening perspectives or generating solutions. In doing so, we aim to enhance the impact of your cultural contributions.
Accepted papers will be requested to provide a 20-second video for the Art Papers Fast Forward and a short audio visual sequence for the Art Papers teaser. Authors are expected to present their contribution physically, in person, at the conference in Los Angeles.
Prospective authors may consider one of the following categories as they prepare their work for submission.
Projects and case studies
Papers in this category rigorously document a realized project that combines computer graphics and interactive techniques with creative practice. They also critically explore its social, cultural, and affective impact.
Methodological contributions
Papers in this category identify, document, and explore emergent methodological approaches that open new pathways to the practice and scholarship of computational art and design as well as art-engineering collaboration.
History, theory, and criticism
Papers in this category offer new historical, theoretical, and critical perspectives on computational art and design and on the technical artifacts, infrastructures, and communities that support them.
Innovation through art practices
Papers in this category explore, through artistic practice including design research, the potential use of emerging digital technologies and their impact for users and citizens. They may also express a transdisciplinary work between digital engineering and art practices to develop solutions that confront the major challenges of our times.
Authors can choose to submit short or long papers. Beyond the difference in length, long papers will favor full academic practices to generate original knowledge, for instance, through an extensive literature review, argumentation, and observations or evaluations of the human impact through validated protocols.
Accepted papers will be published in The Proceedings of the ACM on Computer Graphics and Interactive Techniques: PACMCGIT. In addition, accepted papers and video presentations will be published in the ACM Digital Library.