Chart Your path
Birds of
a Feather
SIGGRAPH participants gather for graphics-related, attendee-organized, informational Birds of a Feather sessions focused on the most prominent industry topics of yesterday, today, and tomorrow. Birds of a Feather sessions are attendee-organized.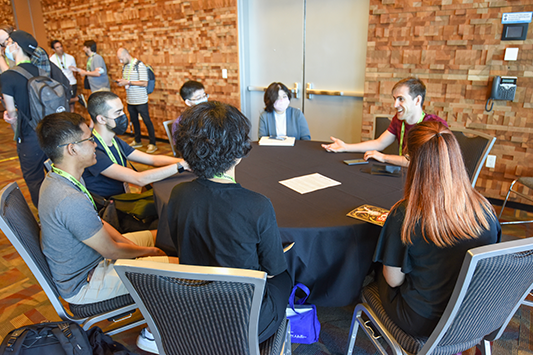 Submit to Birds of a Feather
A Birds of a Feather (BOFs) meeting is a graphics-related, attendee-organized, informational discussion of shared interests, goals, technologies, environments, and/or backgrounds.
BOF events provide a casual atmosphere for conference attendees to meet, exchange ideas, and share information. They are either a presentation or a meet-up.
BOF Presentations share information with like-minded participants via a formal presentation of speaker(s) or panelists.  BOF Meet-ups provide a place for participants to gather informally with others who have interests in the same topic.
All participants, including organizers, must be registered at an appropriate level to participate.
To be considered a BOF, events must be:
Related to computer graphics or interactive techniques
Open to all registered SIGGRAPH 2023 participants
Non-commercial in nature (topics specific to one commercial product or company are not allowed)
Free of recruitment, sales, product tutorials, or company promotion
Free of charge
SIGGRAPH 2023 Birds of a Feather are non-juried content but are subject to a review and approval process.