Boost Your Knowledge
Courses
Reflect on the past 50 years and prepare for what's next as experts distill and share their knowledge across the SIGGRAPH audience. Beginners and experienced professionals alike will broaden their knowledge on concepts ranging from foundational topics to state-of-the-art research breakthroughs.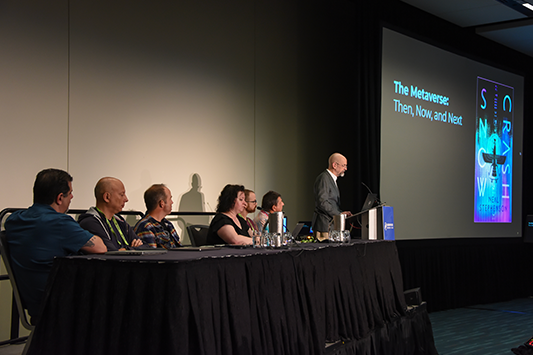 Submit To Courses
SIGGRAPH Courses are sessions where experts from all areas of computer graphics and interactive techniques share knowledge of important topics or trends from industry or academia. Course presenters distill key concepts and ideas into self-contained lessons.
Courses may target any level of expertise from beginner to expert and cut across all corners of computer graphics and interactive techniques. In typical Short Courses (1.5 hour), a single lecturer covers a topic for a subset of the SIGGRAPH audience. Long Courses (3 hours) feature one or more presenters and explore topics in greater depth. Interactive approaches to teaching are encouraged, as are submissions with a separate, but related, hands-on Labs session.
We welcome all Course proposals, but especially encourage submissions on:
Exploring SIGGRAPH's history and future
Introductory content targeting first-time attendees
Topics on the boundary of art, perception, and engineering
Tutorials providing career guidance for students and professionals
Diversity, Equity and Inclusion
SIGGRAPH prioritizes conversations and industry contributions that spotlight how diversity, equity, and inclusion makes our communities, industries, and teams stronger. Conference programs provide a safe place to grow, discuss, and learn from one another and to bridge boundaries with the goal of making our community more inclusive and accessible to all. ACM SIGGRAPH encourages submissions that spotlight DEI content across every SIGGRAPH program.