Expand and Interact
Emerging Technologies
Over the past 50 years, Emerging Technologies has established the foundation for innovations in display, capture, and interaction technologies. What breakthroughs in inventive and imaginative tech are on the horizon for the next half century?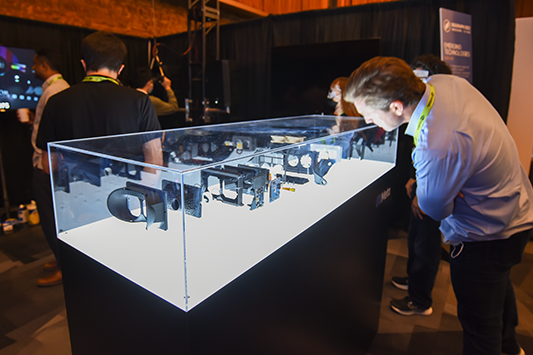 Submit to Emerging Technologies
The SIGGRAPH 2023 Emerging Technologies program will present the latest innovations in graphics and interactive techniques. We particularly welcome submissions that demonstrate unique and innovative display and interaction methods with the potential for lasting impact. This year, in acknowledging the 50th Anniversary of SIGGRAPH, we are also looking for submissions that recreate a historic Emerging Technology exhibit which has had real impact in our field. These can include re-creating a past exhibit, reviving a past exhibit, showing a past original exhibit together with its current innovation and showing its impact story in terms of how it has transformed the field.
Emerging Technologies may include:
Display technologies
Brain machine interfaces
Haptic and tactile interaction technologies
Smart sensors
Wearable technologies
Novel health technologies
Social and collaboration technologies
3D interaction
Robotics
Tangible interfaces
Novel user experiences
Prosthetics and human augmentation
Sports equipment, sensors and interaction
VR, AR and XR innovation
Legacy emerging technologies of significance
Interaction technologies with future commercial impact
Any other surprising and innovative interaction approaches
Panel discussions on the history of SIGGRAPH Emerging Technologies
Panel discussions on the future of SIGGRAPH Emerging Technologies innovations
This year, we hope that Emerging Technologies will both represent key innovations first shown at SIGGRAPH Emerging Technologies and those that expand our field's interactive technology innovations for the next 50 years.
Diversity, Equity and Inclusion
SIGGRAPH prioritizes conversations and industry contributions that spotlight how diversity, equity, and inclusion makes our communities, industries, and teams stronger. Conference programs provide a safe place to grow, discuss, and learn from one another and to bridge boundaries with the goal of making our community more inclusive and accessible to all. ACM SIGGRAPH encourages submissions that spotlight DEI content across every SIGGRAPH program.