Explore. Inspire. Surprise.
Frontiers
Frontiers seeks to incubate innovative ideas and explore new ground for research and practice. It provides a forum to bring together established researchers and visionaries from fields intersecting graphics in new and compelling ways. Frontiers Talks inspire imagination with an overview of emerging new areas. Frontiers Workshops are led by established experts with different viewpoints to enable the engaging exploration of new directions.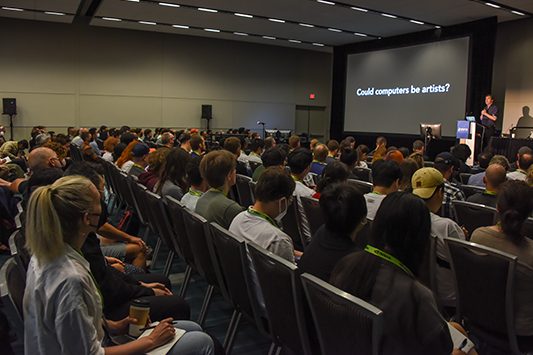 CALL FOR WORKSHOP PROPOSALS
The Frontiers Program is a forum to introduce new ideas, promote conversation to articulate new research questions, and incubate collaborations and communities around these new ideas. As we celebrate the 50th SIGGRAPH conference, there's particular interest in visionary, early-stage emerging topics with implications that may radically change our world of graphics and interactive techniques over the next 50 years.
As the frontiers of research and practice move forward, new research directions, collaboration potential, and unexpected connections across disciplines emerge. Frontiers Workshops are intended to foster radical collaborations with engaging, deep-dive explorations of emerging, interdisciplinary topics led by great minds within and without the SIGGRAPH community.
The workshop plan should be designed to encourage deep-dive conversations organized and led by a panel of experts from multiple fields or problem domains.
Workshop topics vary greatly ― but all have the broad goals of articulating important new questions and shaping new ways of thinking about new problems. The most compelling workshops are inspiring and engaging sessions led by established graphics community researchers partnering with visionaries and researchers in adjacent fields where there is exciting potential for joint work and creating new communities. The Frontiers Workshops seek to provide a forum to explore fundamental questions, challenges, and directions of emerging research areas.
We welcome a conversation around your nascent ideas. Please submit a rough workshop proposal to explore possibilities with the New Communities group and the SIGGRAPH 2023 Committee. Revisions will be recommended after review. For convenience, you may opt to include workshop and speaker details as a file upload for initial submission. Proposals will be reviewed on a rolling basis until the program is at capacity. We strongly encourage you to submit early. The submission system will close on Monday, 1 May at 22:00 UTC/GMT. Final materials must be submitted and speakers confirmed by Monday, 8 May.