Enriching Interactions
Immersive Pavilion
Immersive technologies enrich the way we interact in the social, professional, and personal spheres of our lives while offering daring and unique solutions for wicked problems. Celebrate the exciting evolution of AR, VR, and MR, and connect the dots between past, present, and future advancements in the Immersive Pavilion.
View Program Content
View the Immersive and VR Theater Presentation Content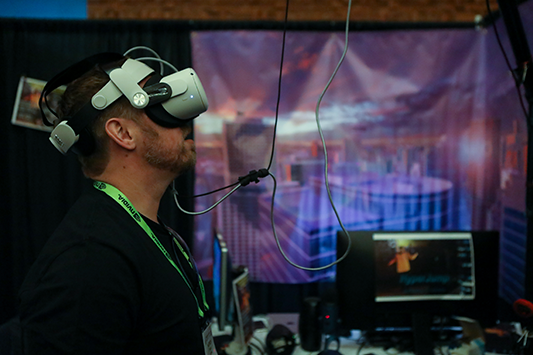 The SIGGRAPH 2023 Immersive Pavilion gathers outstanding content in virtual reality, augmented reality, mixed reality, and beyond! This year's in-person event is a place for contributors and participants to engage in critical discourse on the latest interactive breakthroughs and support for hybrid environments. The Immersive Pavilion seeks submissions with these criteria in mind. First, experiential content is non-narrative based. This includes interactive techniques that solve pragmatic needs for productivity, development, and design challenges — all of which are encouraged. But it also includes social experiences, games, and artistic expression. Second, the Immersive Pavilion is platform-agnostic and can include augmented, virtual, and mixed reality; interactive projection mapping; or multi-sensory installations, among others.
Finally, this year, we seek work that reflects the exciting evolution of AR, VR, and MR, particularly in terms of interaction, showing their unique features, and how they are shaping the future of our lives.
SIGGRAPH recognizes that diverse contributions stem from academic, professional, and independent fronts, awarding Best in Show and publishing abstracts in the ACM Digital Library.
Diversity, Equity and Inclusion
SIGGRAPH prioritizes conversations and industry contributions that spotlight how diversity, equity, and inclusion makes our communities, industries, and teams stronger. Conference programs provide a safe place to grow, discuss, and learn from one another and to bridge boundaries with the goal of making our community more inclusive and accessible to all. ACM SIGGRAPH encourages submissions that spotlight DEI content across every SIGGRAPH program.