At Your Fingertips
Labs
Get up close and personal with the most innovative technologies and techniques. Labs puts new research in the palms of participants' hands in three different formats. Learn through workshops in the hands-on classroom, experiment with installations, and interact with demonstrations and tutorials from SIGGRAPH programs such as Technical Papers, Courses, and Art Gallery.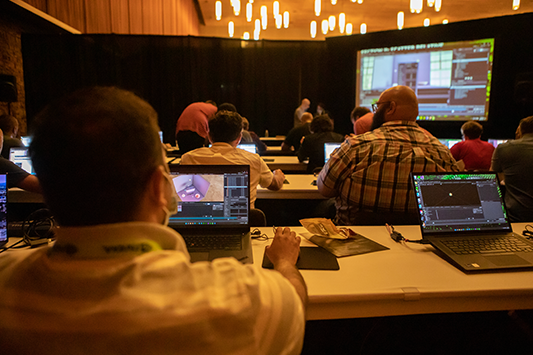 Submit To Labs
The SIGGRAPH 2023 Labs program is where the most advanced computer graphics and interactive techniques combine with hands-on learning to create a unique experience both for presenters and participants alike.
Labs hands-on classes, installations, and demos will be presented in person at the conference and will allow participants to get their hands dirty and engage directly with research and creative projects. Potential submissions include (but are not limited to): working details from the Technical Papers, Art Papers, or other SIGGRAPH 2023 programs; discussions about prototyping and design in practice; technology overviews from experts in their field; use of AR/VR design tools; adaptive technology; high-speed imaging systems; motion-capture systems; animation techniques and processes; digital sculpting and modeling workflows; rapid-prototyping technologies; interactive drawing tools; physical computing devices or objects; and exploratory platforms.
Example Topics of Interest
Interactivity and engagement with virtual or physical displays
Practical or experimental techniques in experience design
New ways computer graphics and interactive techniques support adaptive technology to aid people in their day-to-day lives
Demonstrations of the use of handheld, wearable, or remote devices that explore relationships among the body, data capture, feedback, and usability
Demos from research projects — and code walkthroughs of same
3D worlds design, including the processes, production, content generation, concepts, or strategies in 3D imaging, gaming, or wearables
AR/VR design tools and their application in interaction, usability, and playability relationships
Manufacturing technologies, including 3D printing and other techniques from the next wave of manufacturing technology
Audio and music software, hardware, and hacks at all levels
Small-scale electronics and technology projects and circuit bending that foster interactivity
Diversity, Equity and Inclusion
SIGGRAPH prioritizes conversations and industry contributions that spotlight how diversity, equity, and inclusion makes our communities, industries, and teams stronger. Conference programs provide a safe place to grow, discuss, and learn from one another and to bridge boundaries with the goal of making our community more inclusive and accessible to all. ACM SIGGRAPH encourages submissions that spotlight DEI content across every SIGGRAPH program.