Discover Your Next Breakthrough
Panels
Notable industry experts engage in interactive discussions about current and forward-thinking trends that energize and inspire the practitioners of today and tomorrow.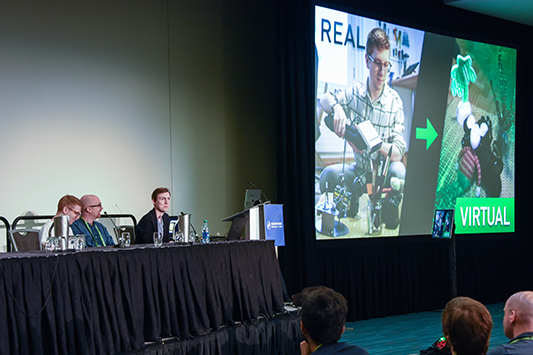 Submit To Panels
The SIGGRAPH 2023 Panels provide an interactive and engaging format for participants, reflective of the diverse backgrounds that comprise the conference.
Leading experts in computer graphics and interactive techniques gather for SIGGRAPH Panels to converge, collaborate, and engage in dialogue about the most prominent topics in the industry.
Panels should present a type of information, experience, and perspective that is unique to participants. They should focus on discussions that generally include a moderator and three or four confirmed panelists with varying experiences or perspectives. Good Panels may include discussion, disagreement, controversy, and audience interaction.
Diversity, Equity and Inclusion
SIGGRAPH prioritizes conversations and industry contributions that spotlight how diversity, equity, and inclusion makes our communities, industries, and teams stronger. Conference programs provide a safe place to grow, discuss, and learn from one another and to bridge boundaries with the goal of making our community more inclusive and accessible to all. ACM SIGGRAPH encourages submissions that spotlight DEI content across every SIGGRAPH program.