Evolution in Real Time
Real-Time Live!
Real-Time Live! is a spectacular show revealing mind-blowing graphics technologies with interactive visuals, all created on the fly in front of a live audience! It features the latest developments in production and research, presenting cutting-edge tools and the newest advancements in real-time graphics. Evolutionary real-time technologies will take the stage when we celebrate 50 years of SIGGRAPH conferences.
Experience the magic of Real-Time Live! from your fingertips! We're live streaming exclusively on Twitch on 8 August from 6-7:45 pm.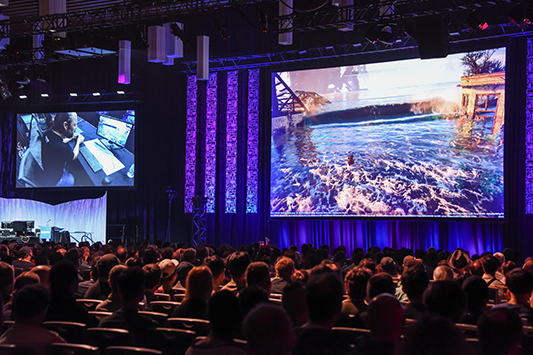 Submit to Real Time LIVE!
Real-Time Live! invites you to share your cutting-edge, real-time technology demos. Whether you are demoing the latest in game technology, real-time scientific visualization, or an augmented reality app, there is no better opportunity to showcase your transformative technology than at Real-Time Live!
Submit your most astonishing, interactive projects that are advancing technology and challenging users to think beyond the familiar.
Diversity, Equity and Inclusion
SIGGRAPH prioritizes conversations and industry contributions that spotlight how diversity, equity, and inclusion makes our communities, industries, and teams stronger. Conference programs provide a safe place to grow, discuss, and learn from one another and to bridge boundaries with the goal of making our community more inclusive and accessible to all. ACM SIGGRAPH encourages submissions that spotlight DEI content across every SIGGRAPH program.