Expanding What's Possible
Talks
Thought leaders build on the achievements of yesterday to share bold and imaginative ideas on key topics across the breadth of computer graphics and interactive techniques.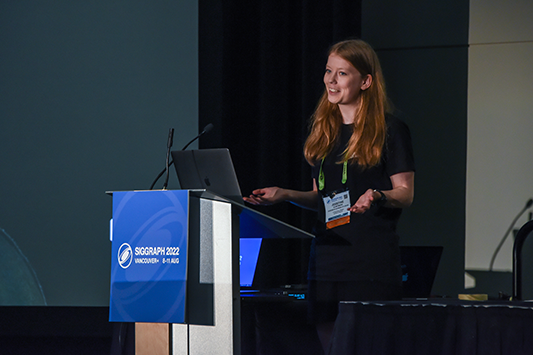 Submit To Talks
Talks encompass a broad array of topics and viewpoints from the greater SIGGRAPH community and create an inspiring, informative, and compelling experience for all SIGGRAPH participants.
Advance the industry by presenting your work in the SIGGRAPH 2023 Talks. This is your opportunity to present new techniques, novel applications of existing techniques, and other developments with broad interest to practitioners of computer graphics and interactive techniques.
We encourage Talks that elaborate on a full range of topics relevant to computer graphics and interactive techniques: academic research, case studies, DEI, education and curriculum, pipeline tools, professional development, or technical developments.
This year, as we celebrate 50 years of SIGGRAPH conferences, we are particularly interested in learning who or what innovations inspired your work — connecting the history of computer graphics to its present and future.
Diversity, Equity and Inclusion
SIGGRAPH prioritizes conversations and industry contributions that spotlight how diversity, equity, and inclusion makes our communities, industries, and teams stronger. Conference programs provide a safe place to grow, discuss, and learn from one another and to bridge boundaries with the goal of making our community more inclusive and accessible to all. ACM SIGGRAPH encourages submissions that spotlight DEI content across every SIGGRAPH program.