Becoming and Belonging
VR Theater
As we come to live more fully online, and emerging talent in the technology sector powers the global creative industry, we spotlight digital embodied identification and the stories of the virtual beings of tomorrow. Explore how the immersive narratives we present can utilize technology and narrative for good.
Program content coming soon.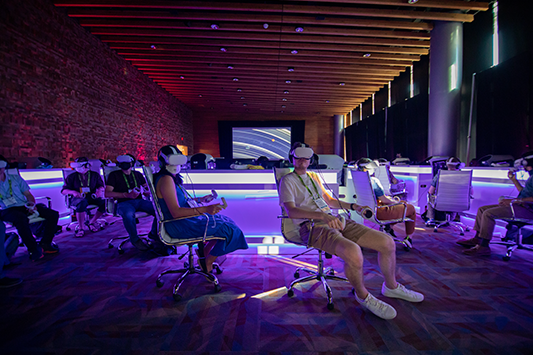 Submit To VR Theater
The SIGGRAPH VR Theater strives to create memorable experiences in a world of immersive storytelling. Ranging in genres from documentaries and dramas to comedies, mystery and fantasy films, we showcase the very best of the world's auteurs working in a medium without walls or frames. Through a curated selection of short-form narratives we aim to provide attendees with a fresh perspective into innovative, important and inspiring virtual reality stories.
What Is the VR Theater?
The VR Theater is a world-class showcase of exemplary virtual reality storytelling. Our main program will be experienced in a high-end, seated, panoramic, multi-viewer immersive space, running approximately one hour from start to finish.
What Is the VR Theater Looking For?
We wish to elevate pieces that stand out in terms of quality and execution. Selected works will present a mix of experiences from established studios, independent creators as well as cultural and educational institutions. All submissions should be easily accessible; inclusive and welcoming to broad audiences. Submitted content will be reviewed by an expert jury who will evaluate each piece based on thematic fit, how it works in the appropriate space, its order of playback, and whether the theater can respect the viewing format and intended experience.
Diversity, Equity and Inclusion
SIGGRAPH prioritizes conversations and industry contributions that spotlight how diversity, equity, and inclusion makes our communities, industries, and teams stronger. Conference programs provide a safe place to grow, discuss, and learn from one another and to bridge boundaries with the goal of making our community more inclusive and accessible to all. ACM SIGGRAPH encourages submissions that spotlight DEI content across every SIGGRAPH program.