2023 - 02 - 15 | Press Releases
SIGGRAPH 2023 Seeks Future-focused, Inclusive, Interactive Content for 50th Conference
FOR IMMEDIATE RELEASE
15 February 2023
Media Contact:
Marketing & Media Office
media@siggraph.org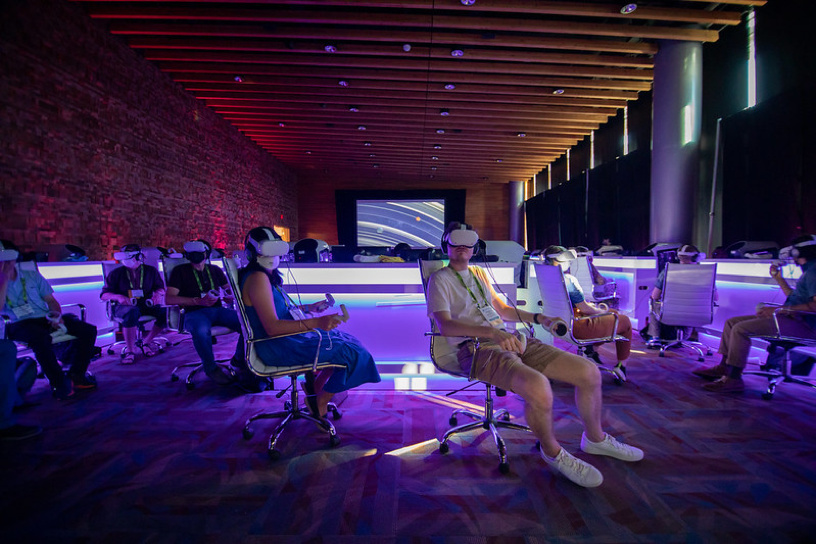 SIGGRAPH 2022 VR Theater by Andreas Psaltis © 2022 ACM SIGGRAPH
SIGGRAPH 2023 Seeks Future-focused, Inclusive, Interactive Content for 50th Conference
CHICAGO—Since its first conference in 1974, SIGGRAPH has been a leader and pioneer in the computer graphics and interactive techniques space. SIGGRAPH 2023 marks a milestone year for the conference, as the community prepares to spotlight 50 years of SIGGRAPH conferences 6–10 August at the Los Angeles Convention Center. Submissions are open for many programs, with the next program submission deadline closing 22 February.
This year, in celebration of its 50th conference, SIGGRAPH and its interdisciplinary programs are seeking submissions highlighting themes of inclusion, interaction, and shaping the future. Next to the conference content, at the heart of SIGGRAPH is its contributors — from those who have attended since the very first conference in 1974 to those who may just be joining the community this year.
"SIGGRAPH represents the most brilliant minds and innovations in computer graphics and interactive techniques," SIGGRAPH 2023 Conference Chair Erik Brunvand of University of Utah says. "Our community has found great success thanks to the progress and advancements showcased at our annual gatherings. I look forward to experiencing what bold achievements our contributors will put on display this year in Los Angeles."
SIGGRAPH 2023 has some special surprises in store, including a retrospective look at past selections in the Electronic Theater and Posters, along with History programming to reflect on the 50 years that brought SIGGRAPH here. To make this conference a true celebration, SIGGRAPH is planning special reflective and predictive experiences for conference participants to engage with. More details, plans, and special surprises will be revealed in the coming months leading up to SIGGRAPH 2023.
The artists, educators, researchers, and professionals who comprise the SIGGRAPH community are imagining a bold and bright future, and that future includes the recent appointment of the SIGGRAPH 2025 Conference Chair. ACM SIGGRAPH selected Ginger Alford, of Southern Methodist University Lyle School of Engineering, to lead the 52nd conference in 2025. Alford will follow SIGGRAPH 2024 Conference Chair Andres Burbano for the Denver event, 28 July–1 August 2024. But first, make your plans to submit to SIGGRAPH 2023 to contribute your innovations to this monumental event in computer graphics and interactive techniques.
###
About ACM, ACM SIGGRAPH, and SIGGRAPH 2023
ACM, the Association for Computing Machinery, is the world's largest educational and scientific computing society, uniting educators, researchers, and professionals to inspire dialogue, share resources, and address the field's challenges. ACM SIGGRAPH is a special interest group within ACM that serves as an interdisciplinary community for members in research, technology, and applications in computer graphics and interactive techniques. The SIGGRAPH conference is the world's leading annual interdisciplinary educational experience showcasing the latest in computer graphics and interactive techniques. SIGGRAPH 2023, the 50th annual conference hosted by ACM SIGGRAPH, will take place live 6–10 August at the Los Angeles Convention Center, along with a virtual access option.