2023 - 06 - 07 | Press Releases
SIGGRAPH Celebrates Its Student Volunteer Program; Creates Experiences and Opportunities for the Next Generation of Professionals
FOR IMMEDIATE RELEASE
07 June 2023
Media Contact:
Marketing & Media Office
media@siggraph.org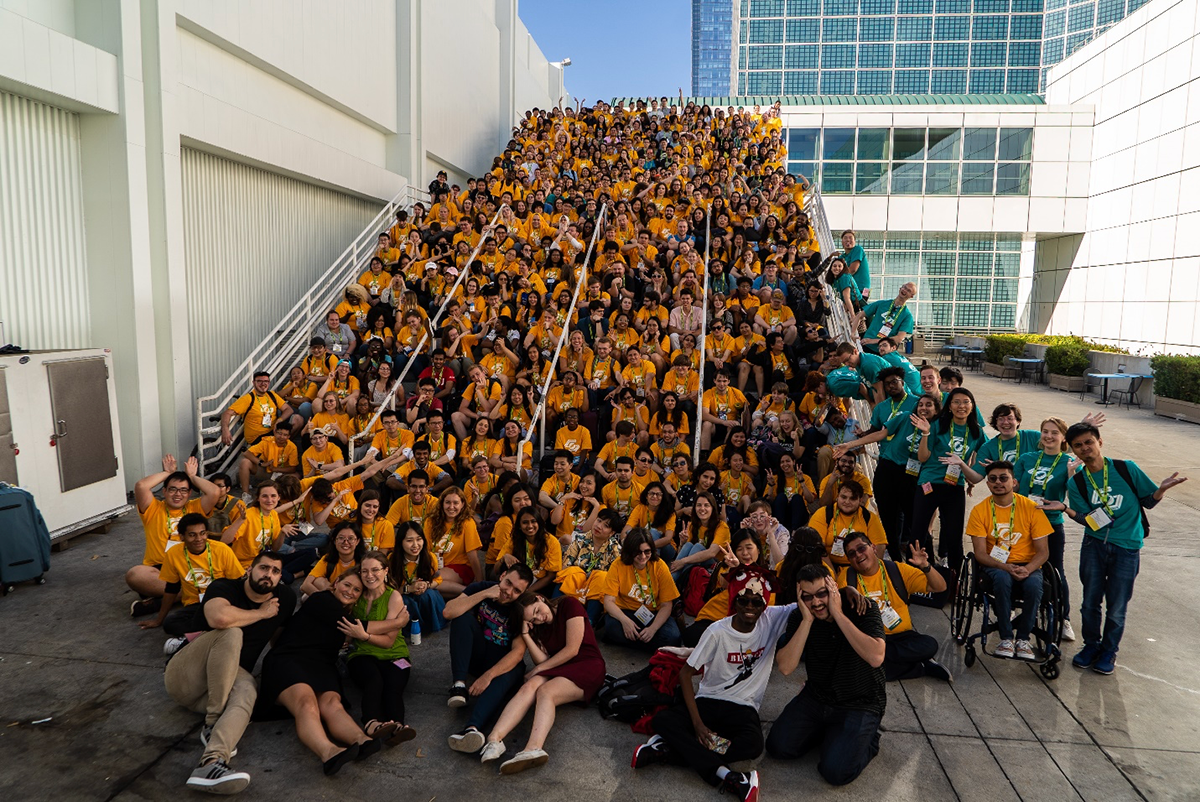 photo by Jim Hagarty © 2019 ACM SIGGRAPH
SIGGRAPH Celebrates Its Student Volunteer Program; Creates Experiences and Opportunities for the Next Generation of Professionals
SIGGRAPH 2023 Offers Unique Chances for 300-Plus Students to Gain Insight to the Evolving Computer Graphics and Interactive Techniques Landscape
CHICAGO—SIGGRAPH 2023, the premiere conference and exhibition on computer graphics and interactive techniques, celebrates its 50th year of breakthroughs and innovation. The commemoration includes support from the integral Student Volunteer program, which provides students the opportunity to acquire insight into the SIGGRAPH community. Student Volunteers are the next generation of creators and innovators who will receive hands-on experience and the prospect of meeting and learning from current professionals and visionaries. The 50th annual conference runs 6–10 August 2023 in person in Los Angeles, with a companion Virtual Access component.
The SIGGRAPH Student Volunteer program comprises of students, 18 years and older, from around the world who are enrolled in high school, colleges, or universities in graduate and undergraduate programs. These inclusive, diverse, and forward-thinking students have a chance to showcase their leadership skills, team-building abilities, and passion for the industries that make up computer graphics and interactive techniques. Many of these students go from volunteers to leaders in the SIGGRAPH space, as well as becoming contributors in the industry, whether in production, technology, or academia.
"For an intensive week, the SIGGRAPH conference gives our Student Volunteers an understanding and awareness of what this amazing community offers," said Meaghan Long, SIGGRAPH 2023 Student Volunteer Program Chair. "This year, we have more than 300 Student Volunteers, and I'm as excited as they are about being at this year's in-person conference. These students are the core of every SIGGRAPH conference. They're given responsibilities and duties, but also the time to enjoy the conference and all it has to offer throughout the week. With this program, students often find their community of friends and colleagues, along with a network of mentors and even career-building opportunities."
Individuals who have hailed from the SIGGRAPH Student Volunteer program have even moved into becoming SIGGRAPH Program and Conference Chairs. They work at their dream jobs, making their dreams into reality, while giving back to the conference that gave them their start. Program alumni go on to succeed in careers at Disney/Pixar, Amazon, Electronic Arts, Microsoft, and various universities and international research firms, as the program assists in developing exceptional community leaders.
Upon submissions, the program committee reviews applications, selects a class of candidates, then nurtures the young volunteers who can bring enthusiasm and thoughtfulness, as well as other skills, to the conference. During the five-day conference, those Student Volunteers and assigned Team Leaders provide operational and logistical support in all aspects of the conference. Student Volunteers are given responsibilities that encompass everything from badge monitoring and conference management support to assisting spoken language translations and managing technology demonstrations. Team Leaders' responsibilities include assigning shifts, addressing on-site questions from participants, and supervising Student Volunteers.
Through volunteering at a SIGGRAPH conference, many students can meet others who share the same interests and inspirations. The conference provides insight and the prospect of connecting to others in the vast community of computer graphics and interactive techniques. Student Volunteers and Team Leaders get access to the full conference, networking opportunities through various programs and events, on-site job fair, and other exclusive benefits which could someday lead them to their dream career.
Long added, "As the Student Volunteer program has grown and evolved over the years, what remains the same is creating experiences and learning with their future friends and colleagues. They're able to create a bond that lasts longer than the conference itself. Being part of the Student Volunteer program offers opportunities and seeing what's available, and then pursuing it."
Learn more about the Student Volunteer program by checking out the ACM SIGGRAPH Blog. To get more information about the conference and the other various programs and opportunities at SIGGRAPH 2023, or to register to attend in person or online, go to s2023.SIGGRAPH.org/register.
###
About ACM, ACM SIGGRAPH, and SIGGRAPH 2023
ACM, the Association for Computing Machinery, is the world's largest educational and scientific computing society, uniting educators, researchers, and professionals to inspire dialogue, share resources, and address the field's challenges. ACM SIGGRAPH is a special interest group within ACM that serves as an interdisciplinary community for members in research, technology, and applications in computer graphics and interactive techniques. The SIGGRAPH conference is the world's leading annual interdisciplinary educational experience showcasing the latest in computer graphics and interactive techniques. SIGGRAPH 2023, the 50th annual conference hosted by ACM SIGGRAPH, will take place live 6–10 August at the Los Angeles Convention Center, along with a virtual access option.