A Festival Like No Other
Electronic Theater
The Computer Animation Festival Electronic Theater, a qualifier for the Academy of Motion Picture Arts and Sciences, is the pinnacle of animation excellence. Discover the evolution of animation and the limitless possibilities ahead through this showcase of short stories told through computer graphics.
View Program Content
View Electronic Theater Retrospective Celebration Panel Content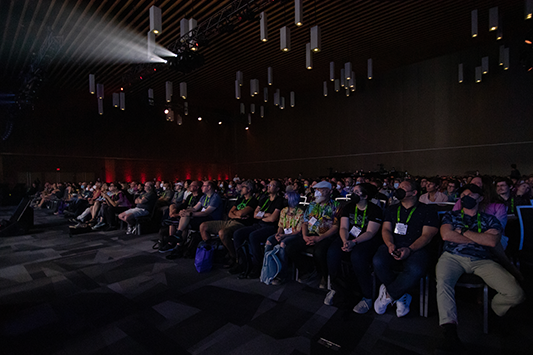 Coming To A Screen Near You
The SIGGRAPH 2023 Electronic Theater is hitting the open road! Click the button below to fill out a form to see the Electronic Theater Traveling Show at your conference, university, ACM SIGGRAPH Chapter, or more. Availability for the 2023 reel takes place 10 September–1 March.
Attend a Special Screening With Live Commentary From SIGGRAPH Legends
On Tuesday, 8 August, at 11 am, join SIGGRAPH 2023 and esteemed guest speakers in a special panel and screening to celebrate the 50th conference. Add the Electronic Theater Retrospective Celebration to your schedule and spend the morning with moderator Doug Roble and panelists Alvy Ray Smith, Dennis Muren, Paul Debevec, Donna Cox, and Carolina Cruz-Neira, who will share live commentary on a special reel featuring seminal Electronic Theater pieces from SIGGRAPH history. A separate experience from the Electronic Theater screenings taking place on Monday, 7 August, and Wednesday, 9 August, this panel is a unique SIGGRAPH experience where we reminisce on pivotal stories from our history while tuning into live commentary from industry legends. All participants registered at the Full Conference and Full Conference Supporter levels are welcome, no ticket required.
Submit to Electronic Theater
Be a part of the SIGGRAPH 2023 Electronic Theater experience by sharing your groundbreaking project and demonstrating your unique approach to storytelling in this well-respected animation showcase.
Since 1999, the SIGGRAPH Computer Animation Festival's Electronic Theater has been recognized as a qualifying festival by the Academy of Motion Picture Arts and Sciences. It began as an annual showcase of advances in computer graphics, and now celebrates the rise of computer graphics as a medium for storytelling in animation, visual effects, games, scientific visualization, and more.
Submit your best work that educates, entertains, or informs for your chance to be featured in this prestigious showcase. An internationally recognized jury will review your work and award Best in Show, Jury's Choice, and Best Student Project prizes. Notably, several works originally presented in the Electronic Theater have been nominated for or have received a Best Animated Short Academy Award.
In honor of SIGGRAPH's 50th conference, the Electronic Theater is hosting a special Retrospective Celebration and is now seeking submissions. Click here to learn more.
Electronic Theater
Electronic Theater Retrospective Celebration
Roll back the clock and rev up those VCRs, it's time to celebrate SIGGRAPH's 50th! This year only, the Electronic Theater will be hosting a special second screening, featuring guest speakers and a reel of seminal pieces from SIGGRAPH's history. Whether it was shown in the 1970s or the 2020s, we invite you to re-submit your work to the Electronic Theater Retrospective. Get your submissions ready, let's take a trip down memory lane and relive those groundbreaking moments in computer graphics history. Interested in participating?
We ask for your help with the following types of submissions:
Retrospective (Reel): A reel showing computer graphics content from the company/individual over a significant span of years. Reels selected for this new, one-time category will be shown at a special, second event commemorating SIGGRAPH's 50th conference.
Retrospective (Resubmission): A resubmission of content screened previously in the last 50 years of SIGGRAPH, for consideration in a special, second event commemorating SIGGRAPH's 50th conference.
Be part of the SIGGRAPH 50th Conference – Electronic Theater Retrospective Celebration. Submit your contribution now.